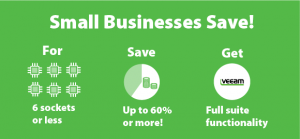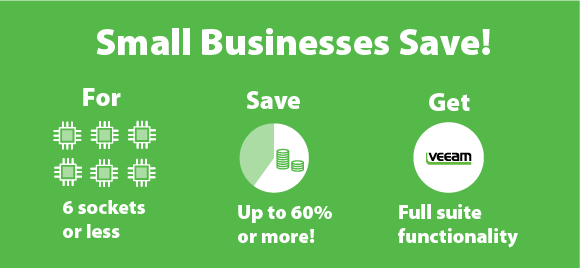 It just works! Affordable and award-winning solution for small businesses
You are busy, and managing IT on your own is no easy task. You need a backup solution that just works, is hassle-free, and saves valuable time so you can focus on growing your business. Stop wasting time managing legacy backup solutions and switch to Veeam — the affordable and worry-free solution that you can trust will deliver the automation and reliability needed to ensure your business is Always-On™.
Veeam Backup Essentials gives you the ultimate small business pack, delivering the same functionality of Veeam Availability Suite at HALF the price! It is specially packaged and priced for small businesses with virtual environments of 2, 4 or 6 CPU sockets (typically found in companies with fewer than 250 employees).
High-Speed Recovery
Rapid recovery of what you want, the way you want it
 Veeam Backup & Replication delivers lightning-fast, reliable restore at your fingertips for entire VMs, individual files and application items, giving you low recovery time objectives (RTOs) of < 15 minutes.
Restore entire VMs in minutes with Instant VM Recovery™

Recover individual files effortlessly with Instant File-level Recovery

Quickly and easily restore Microsoft Exchange items with Veeam Explorer™ for Microsoft ExchangeENHANCED
Recover Active Directory objects, entire containers, OUs and user accounts with Veeam Explorer for Microsoft Active DirectoryENHANCED
Restore entire SharePoint sites; return deleted items back into production with Veeam Explorer for Microsoft SharePointENHANCED
Fast transaction-level recovery and point-in-time restore of Oracle databases with Veeam Explorer for OracleNEW and SQL Server databases with Veeam Explorer for Microsoft SQL ServerENHANCED
Leverage EMCNEW, HPE and NetApp snapshots for recovery of single files or entire VMs from storage snapshots with Veeam Explorer for Storage SnapshotsENHANCED
How quickly can you recover what you need?
96% of Veeam recoveries are within RTO SLAs, compared to 78% for other solutions
Data Loss Avoidance
Low RPOs and streamlined disaster recovery
 Veeam Backup & Replication provides streamlined disaster recovery and simple, secure offsite backups, giving you the ability to achieve recovery point objectives (RPO) of < 15 minutes.
Create backups from any storage, plus ultra-fast backups from EMCNEW, HPE and NetApp storage snapshots

2-in-1: backup and replication™: In addition to backups, maintain image-based replicas either onsite for high-availability or offsite for disaster recovery, and simplify replica failover and failback with little to no business disruption

Leverage fully-integrated cloud-based disaster recoveryNEW and fast and secure cloud backup with Veeam Cloud Connect
Simplify the management of your backup storage with Scale-out Backup Repository™NEW

Get backups and replicas off site up to 50x faster with built-in WAN acceleration

Meet compliance requirements and archiving policies with native tape supportENHANCED
Back up directly from file-based (NFS) primary storage using Veeam's proprietary NFS client with Direct NFS Access NEW
How do you reduce the risk of data loss?
83% of Veeam customers are more confident in their backup than with previous solutions
Verified Recoverability
Guaranteed recovery of every file, application, or virtual server, any time
Veeam Backup & Replication automatically tests every vSphere and Hyper-V backup and replica, every time. Have confidence that your files, applications and virtual servers can be restored when needed.
Verify the recoverability of every backup with SureBackup®.

Test every restore point in every VM replica automatically with SureReplica.
Are you 100% sure your backups are recoverable?
71% of Veeam customers report improved reliability of backups compared to other solutions
 Leveraged Data
Using backup data to create an exact copy of your production environment
 Veeam Backup & Replication mitigates the risks associated with application deployment by putting your backups and replicas to work in a production-like environment prior to any production rollout.
Create a Virtual Lab without provisioning additional resources to run your applications from Veeam backups and replicas.

Test or troubleshoot an application in one or more VMs from an On-Demand Sandbox™ without affecting production workloads.
Create complete, isolated copies of production from storage snapshots with On-Demand Sandbox for Storage SnapshotsNEW
How do you mitigate application deployment risks?
84% of Veeam Virtual Lab users save time by avoiding deployment problems
Complete Visibility
Proactive monitoring and alerting of issues before operational impact
 With Veeam Backup & Replication and Veeam ONE™, you can take control over your entire backup and virtual environment. By utilizing all of the features and capabilities of Veeam's backup and virtualization technology, you can discover and be alerted to issues before they affect your Always-On Business™.
Ensure protection, performance and availability with Veeam ONE through:

24×7 real-time monitoring and alerting: Notifies you of backup and performance issues

Resource optimization and configuration tracking: Evaluate infrastructure performance and ensure existing configuration meets all known best practices

Capacity planning and forecasting: Forecast resource usage and utilization trends with "what if" modeling and resource overcommit tracking for your backup and virtual infrastructures

And MORE included in the NEW Veeam ONE v9!

Gain visibility into the Veeam backup infrastructure from inside Microsoft System Center, Kaseya VSA and LabTech.

Get enterprise-level usability with a standalone consoleNEW and Remote Office / Branch Office (ROBO) enhancementsNEW

Scale your business with a distributed architecture and centralized management console.

Leverage deep VMware integrations with vCloud Director support and a vSphere Web Client Plug-in.
Do you have visibility into your IT environment?
71% of customers using Veeam monitoring and reporting tools say their risk awareness has improved compared to other solutions