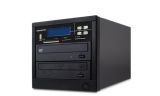 The Blu-ray Evidence Backup duplicator series provides high-capacity data recording and duplication of over 25GB per disc – that's 5 times more that a standard DVD (4.7Gb).
The Tower Blu-ray Evidence duplicators are available with up to 10 target drives. An optional hard drive comes allows for image archiving of up to 25GB each. This dynamic hard drive partition system saves HDD space by creating partitions according to the image size. These Tower Blu-ray duplicators are extremely user friendly and with virtually no training at all. Anyone can be copying discs in no time. An intuitive, menu-driven display and a 4-button control interface provide one-touch operation for the novice user while providing advanced features for the professional.
Fast & Efficient
Rigorously tested for performance and reliability, the Tower Blu-ray duplicators are manufactured to strict quality control standards with an aluminium case and built in power supplies, delivering enhanced duplication at every level and at all times.
Key Features:
Duplicate with up to 5 times more storage capacity
25Gb Blu-ray drives
Standalone operation, no PC required
Optional Hard Drive
Easy to use
User friendly and intuitive LCD panel
Specifications for Blu-ray 1 to 3 Evidence Tower
No. Of Drives:
4
Drive Type:
LG or Panasonic Blu-ray
Internal Interface:
SATA
LCD Panel:
Yes
Standalone:
Yes (no PC required)
Hard Drive:
Optional (image must be loaded from writer to hard drive)
Printer Option:
No
Environment:
Temp: 40-95f Humidity: 20-80%
Voltage:
Input: 100-240 VAC
Output: +5V DC, 3.8A
Regulations:
FCC, CE, UL, RoHS
The models we have are:
Avidat-B1     Flash memory to 1 DVD/ CD drive duplicator
Avidat-BB1  Flash memory to 1 Blu-Ray/ DVD/ CD drive duplicator
Avidat-B3     Flash memory to 3 DVD/ CD drives duplicator
Avidat-BB3  Flash memory to 3 Blu-Ray/ DVD/ CD drives duplicator
We are the OEM manufacturer for these products.
Specifications for model Avidat-B1
Model               :        Single-Target
Operating Type :       Stand-alone (No PC Required)
Backup Method:       Single Session/Multi-Session /Disc Spanning
Display             :       2 x 16 Backlit LCD
Input 
4 Button Operation
User training copyrighted video DVD provided
Supported Recording Discs:
DVD+R
DVD+RW
DVD-R
DVD-RW
Dual Layer DVD±R
Business Card CD
3″ Mini CD-R
Standard CD-R/RW CD/DVD
Max Writing Speed
MS Slot:
MS
MS-Duo
MS Pro
MS Pro Duo
MS MagicGate
MS Pro MagicGate
MS-Duo MagicGate
MS Pro Duo MagicGate etc.
CF Slot:
CF I
CFII
IBM Micro Drive
SD Slot:
SD
SD Pro
Mini SD*
Mini SD Pro*
Micro SD*
SDHC
WI-FI SD
Super HS SD (*Adapter Required)
MMC Slot:
MMC
MMC Pro
MMC II
RS-MMC
USB Drive (Dicsc):
DVD-ROM
DVD-Video
DVD+R
DVD+RW
DVD-R
DVD-RW
Dual Layer DVD±R
CD-ROM
CD-I
Audio CD
Video CD
Bootable CD
Mixed-mode CD
Multi-session CD
CD-Plus
Business Card CD
3″ Mini CD-R.
Certified and quality tested by AKL Technology Engineering & Services
Power Supply               :  115V or 230V
Operating Temperature :  41°F ~ 104°F
Operating Humidity      :  20% ~ 80%
Regulations                   :  FCC, CE
Warranty                       :  12 months
NOTE: These duplicators cannot duplicate copy protected CDs or DVDs.