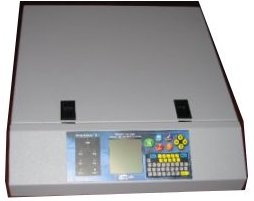 These used old model OmniClone® 5u comes in good working condition but without warranty. Thery are sold at a very attractive prices and only a few units left.
The standalone, compact OmniClone® systems utilize the latest technologies to allow UDMA data transfer speeds in excess of 2.3 GB/min. Copy a gigabyte load of XP or any Windows OS to any gigabyte size hard drive in less than a minute. You may use any combination of IDE, EIDE, or UDMA master and target drive brands, sizes and models. With their comprehensive features, innovative design, and functionality, the OmniClone® systems are the ideal production-grade duplication solutions.
Each OmniClone® model also includes an integrated keypad allowing the user to edit volume labels, enter supervisor passwords, customize the unit's behavior, and store pre-defined settings.
 

Hard-drive duplication


5 target, IDE, EIDE or UDMA hard-drive to hard drive duplication with integrated keypad which adds functionality to unit..  SATA (Serial ATA) drives supported with (optional) SATA adapter.

 

Target Drive Structures


Adjusts all necessary target drive structures to ensure target will boot (e.g. Windows 95/98/ME/NT/2000/XP). NTFS CleverCopy software option required for NTFS file system applications.

 

 

 

Images any operating system


The system supports  DOS, FAT16/32 & NTFS file-systems. CRC 16 verification for all partition types during UDMA transfer selection. (includes mirror cloning support for proprietary O/S, Mac, Linux, Unix, Sun, & OS6).

 

Embedded USB Model


The OmniClone 2u-USB and 5u-USB come with embedded hardware to allow for master drive  management. This allows users to Store/restore, Modify contents, Defregament master drive, Reformat, Manage partitions using 3rd party software. Omni 10u & 15u models come standard with one USB module.

 

 

 

Brand unimportant


Master & target drives can be different sizes, brands, & models.

 

Data Transfer Rate


Speeds may exceed 2GB/min (UDMA Mode).

 

 

 

Optional – Adapters available for SATA hard disk and CF card duplication

 

 

 

 

 

Built-in cooling fan


Ensures that there will be no data loss due to drive overheating.