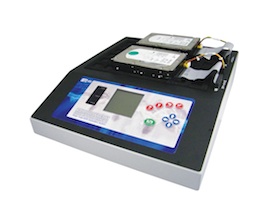 The fastest, most advanced one-to-one SCSI standalone, mixed master hard drive duplication system
The OmniSCSI One-to-One features high-speed, one-to-one, duplication and is capable of duplicating a SCSI master drive to one SCSI target at speeds approaching 6GB/min. This revolutionary system is housed in a slim-line chassis and is completely self-contained with its own graphic LCD display and control panel. No monitor or keyboard required.
Optional SCSI 80 pins, 50 pins adapters and spare SCSI cables are also available.
Device Features Include:
Brand unimportant
Master & target drives can be different sizes, brands, & models.
Active Cooling

Perforated drive trays with active cooling quickly dissipate heat

Compaq Diagnostics
Supports Compaq diagnostics partition.
Data Transfer Rate
The OmniSCSI One to One clones hard drives at speeds approaching 6GB/min
CleverCopy™

CleverCopy™ technology copies only data areas and skips blank sectors. It also scales master partitions to precisely fit the target, making all the necessary adjustments on-the-fly. CleverCopy supports DOS, Windows 95/98/NT/ME/SE/2000/XP/VISTA/7 based systems. CleverCopy automatically scales FAT16/32.CleverCopy technology for NTFS file systems is available with the NTFS CleverCopy software option. For Windows 7 O/S, optional Selective Partitions software is required if Master and Target drives are different sizes. Refer to the Windows 7 Cloning Guide for instructions and details.

O/S Independent

Clone any operating system. Scales DOS, FAT 16/32 & NTFS. Compatible with all operating systems including Windows 7, Windows Vista and Windows XP. Please refer to Windows 7 Cloning Guide for limitations with some cloning methods and Windows 7.

System Compact Flash Card A built-in compact flash card provides an easy method for software updates
Free lifetime software updates & Phone Technical Support
Free lifetime software updates & Phone Technical Support
Includes Connectors
Standard 68-pinSCSI-3 connectors
O/S Independent
Clone any operating system. Scales DOS, FAT 16/32 & NTFS.
One-year Standard Warranty
The system comes complete with a one year parts and labor warranty.
Portable
Most compact single-target system on the market.
Slim Line Chassis
The unit features a slim-line chassis
Up to 24 partitions
Can recognize up to 24 partitions on master drive.
Supports All SCSI Drives
The unit is forward and backward compliant (includes adapters for 68 pin SCA 3 connections) For 50 or 80 pin to 68-pin and SE to differentials, please see SCA 50 or 80 pin adapter sets.
Target Drive Structures
Adjusts all necessary target drive structures to ensure target will boot (e.g. Windows 95/98/ME/SE/NT/2000/XP). NTFS Clevercopy software option required for NTFS file system applications.
Specifications
Power Requirements
90-230 47/63 Hz
Power Consumption
10W without drives
Operating Temperature
5 – 60 C
Agency Approvals
UL 1950, FCC Part 15 Class A, CE
Dimensions
11″W x 16.5″D x 3″H
Weight
20 lbs.
Relative Humidity


10-80%