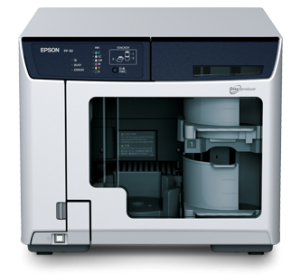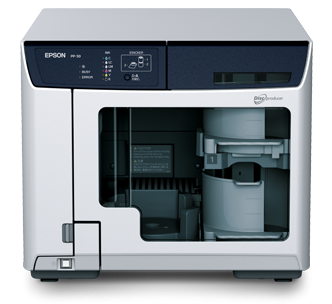 High Precision and Reliability
The Discproducer P50 is built to withstand hard knocks and keep dust out. The solid body provides a sturdy housing for the intricate technologies within to run processes smoothly without any interruption.
With AcuGrip™ robotic arm, which handles one disc at a time, reduces the risk of incurring scratches on the disc, often caused by conventional sliding mechanisms and prevents interruptions during unsupervised production, caused by mechanical blockage.
Unrivalled Performance with Cost Savings
The Micro Piezo™ print head and ink technology ensure uniform, stable ink droplets with virtually no satellites or misting, producing brilliant and crisp disc labels at a high resolution of up to 1440 dpi x 720 dpi. It also protects against striation and ink bleed, and allows ultra-fine colour graduation plus razor-sharp text in even small font sizes.
Instead of the traditional whole cartridges, the P50 utilises six individual high-capacity ink cartridges that are easily replaced in a few seconds, thus allowing you to print more while keeping running costs low.
Convenient and Fuss-Free Operation
The "Total Disc Maker" software is easy to use for fast and efficient production of CDs and DVDs in just three simple steps:
| | |
| --- | --- |
| Step 1: | Compile Data Disc Editing mode lets you indicate the type of data to be burned for example a music, video or data disc then load the data and save it into a created folder. Its quick and easy, so even non-experts and novices will find it a breeze. |
| Step 2: | Compose the Print Image Label Editing mode lets you compose your CD/DVD label using pre-defined templates and provided images or even customize your own design. Preview your finished composition and store it for easy retrieval in the future. |
| Step 3: | Configure for Production Publishing mode lets you set parameters such as the number of CDs or DVDs to be burned, the burning and print speed, the in/out trays for discs, and print resolution. Then simply press Publish and your production run is on its way. |
Monitoring System Reliability
The Monitoring Software keeps you informed about all-important parameters such as tray status and pending jobs. It helps you choose whether to let your production run continue unattended, and protects you against unexpected interruptions, especially when facing tight deadlines.
Compact Design
At less than 40cm wide, the P50 is one of the smallest systems in its class. Its flat top allows for another unit to be stacked above to save space or be used as storage surface for media and print cartridges.
Convenient Total Front-Operation
The P50 offers the ergonomic advantages of total front-operation and status reporting. Unlike other systems that allow publishing to continue without ink, the P50 shows ink level status using an LED for each individual colour. This allows the printing process to be manually or automatically interrupted in case of a near-empty ink cartridge, thereby eliminating damage and waste.
Ideal for a Wide Range of Applications
The fully automated P50 is designed to deliver highly reliable data burning and photo-realistic printing for all kinds of applications, leaving you free to focus on other tasks.