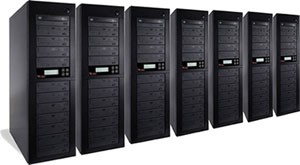 Mass Duplication Made Easy
The Tower duplication system is a revolutionary solution what will expand to allow you to link up to 255 ten drive towers to give and incredible 2550 simultaneous target drives.
Easy To Use
Each ten target drive tower is linked to another via a D-sub 15 connection. Once you put a master disc into one of the towers and press copy the data will pass to the next tower through the high performance daisy chain cables. Alternatively duplication can be made from a master stored on the 160Gb hard drive for even fast duplication times. Whether you're a novice of a duplication expert, you'll find this Tower to be a great tool because of its speed, accuracy and reliability. Our Tower duplicators can also be used as stand alone DVD/CD 10 target towers as well as being linked together to form chains of duplicators. The Tower supports up to 48x CD duplication or 22x DVD duplication, depending on the model chosen. A USB 2.0 connection provides you with the option to link to your PC and make one of the CD/ DVD-RW drives inside your duplicator tower as an external optical drive. Designed to with-stand 24 / 7 operation and heavy production runs the Tower Duplicators enhanced vented air circulation system means that your towers never require cooling off periods.
Fast & Efficient
Rigorously tested for performance and reliability, Towers are manufactured to strict quality control standards with an aluminium case and built in power supplies, delivering enhanced duplication at every level and at all times.
Key Features:
Flexible duplicator
Expands form 10 to 2550 target drives
22x DVD writing
Standalone, no PC required
Optional Internal Hard Drive
Perfect for Live Events
Easy Operation
Low Cost
High Efficiency
USB 2.0 PC Connection
Specifications for Tower – (Daisy Chain Duplicator)
Disc Capacity:
10 – 2550
No. Of Drives:
10 – 2550
Drive Type:
22x DVD drives
LCD Panel:
Yes
Link Type:
D-sub 15
Standalone:
Yes (no PC required)
USB Connection:
USB 2.0 as standard
Hard Drive:
Optional
Business Card Compatible:
Yes
Printer Option:
No
Dimensions (WxHxD):
7.5x25x16.5″ or 190x787x417mm
(each 10 drive tower)
Environment:
Temp: 30-100f
Humidity: 10-80%
Weight:
55lbs (25kg) Boxed weight of each 10 drive tower
Voltage:
100-240 VAC 50/60Hz Switchable
Format:
 
DVD+/-R/RW:
Yes
DVD+R DL:
Yes
DVD-ROM:
Yes
DVD-Video:
Yes
CD-R/RW:
Yes
CD-ROM (Mode 1):
Yes
CD-DA (Audio CD):
Yes
CD-ROM XA (Mode 2) :
Yes
Multi Session Photo CD :
Yes
CD-I:
Yes
D-Extra (CD Plus):
Yes
CD+G:
Yes
VCD:
Yes