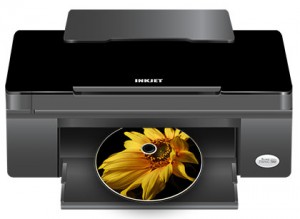 HP Technology
The CD DVD printer features HPs' unique PhotoREt IV colour-layering technology which is able to deliver vivid, true-to-life photos. HP PhotoREt IV controls the placement of the 4-inks more precisely than ever before. Each dot is capable of receiving 32 minuscule drops of colour, each one precisely positioned to achieve smoother graduations in tone and to virtually eliminate any grain in the printed image. PhotoREt IV can deliver 289 levels of shade for each colour (compared with 17 levels in previous generations) and offers a complete palette in excess of 1.7 million colours. The outstanding CD print quality is also achieved through the clever design of the drawer mechanism, which holds the discs in place to such a high degree of accuracy, that the finest ink-jet disc printing can take place. The drawer mechanism's superior in/out tray also allows for faster printing speeds.
In addition to 120mm CDs and DVDs and 80mm mini discs,  CD business cards can also be printed with the use of optional adapters. It uses "Disc Printer Cartridges" DP75 Tri-colour and DP56 black ink cartridges, featuring GENUINE HP inks for the most cost effective printing possible.
User Friendly
The CD DVD printer boasts a unique interface making it the easiest to use and most accurate CD/DVD printer by far. The Disc Mask ensures precision printing of designs time after time and the quick and simple calibration process ensures perfect layout. Easy to use, yet professional disc labelling software, "CD Label Designer" is also included with every Puma disc printer enabling users to make brilliant labels quickly and effortlessly.
Versatility
As a desktop CD DVD printing solution, the Puma disc printer is ideally suited for the low-medium volume and small business user, however, the DVD/ CD printer can also be easily integrated with an autoloader or automated disc duplicator for fast, unattended printing and disc duplication of greater quantities, perfect for even the most demanding of professional CD DVD duplicators.
Key Features:
Direct-to-disc inkjet CD DVD printer, manual or autoloading

Up to 4800dpi resolution

4-colour printing

Prints CD, DVD, BD (Blu-ray), CD business cards and 80mm mini discs

Fastest CD DVD disc printing

Photo quality disc printing

Prints laser sharp text

Edge to edge printing

Hewlett-Packard inkjet technology

Cartridges feature genuine HP inks

Combines easily with autoloader

Professional graphics software included
Specifications
Model

Speedjet

Function:

Print Only

Media Handling:

Inkjet printable CDs, DVDs, Blu-ray, CD Business Cards, 80mm Mini Discs

120mm CDs/DVDs:

Yes

80mm Mini Discs:

Option

Rectangular CD Business Cards:

Option (61x86mm)

Saddle CD Business Cards:

Option (80x61mm; 80x63mm)

Maximum Resolution:

4800 x 1200 dpi with 16.7 million colours

Print Speed




(seconds per disc):

25% coverage Mono @ Normal Text-quality approx.* 16




100% full coverage Colour @ Normal inkjet-quality approx.* 24




100% full coverage Colour @ Best inkjet (PhotoREt) quality approx.* 52




100% full coverage colour @ Photo-Quality HP PhotoREt approx.* 134

Cartridges:

Dual Disc Printer Cartridges




DP56 Black




DP57 Tri-Colour




Feature genuine HP inks

Graphics Software Included:

Disc Label Designer




(can be used with most graphics programmes including CorelDraw and Adobe Photoshop, templates provided)

Minimum System Requirements:

Windows 2000, Pentium 133 MHz, 64 Mb RAM




Windows XP, Pentium 233 MHz, 128 Mb RAM

Interface/Connectivity:

Bi Universal Serial Bus. 2.0 Full Speed (USB)




Centronics Parallel IEEE-1284 compliant)

Dimensions (WxHxD):

17.6 x 7.6 x 14″




447 x 152 x 356mm

Weight:

12.2lbs (5.5kg) without cartridges

Voltage:

220-240V/50Hz 110V/60Hz

Operation:

PC Required