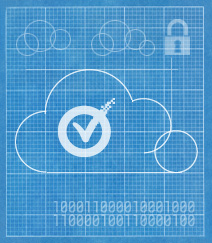 Build Protected Clouds with Symantec
Enterprises seek the agility and efficiency promised with cloud computing but still desire the visibility and control they have in their data center. Symantec allows you to build your public and private cloud on the best foundation possible – the investments in architecture, systems and knowledge you've already made. Protect your information and infrastructure while also protecting your past investments.
Confidently Move Tier One Applications to the Private Cloud
As more business-critical applications move to the cloud, the need for high availability becomes increasingly important—regardless of geography. Ensure your private cloud remains resilient and available, with advanced solutions from Symantec.
White Paper: Architecting a Resilient Private Cloud

IDC White Paper: Leverage Existing Investments to Build Your Private Cloud
Deliver a Secure and Compliant Virtual Infrastructure
Clouds are built leveraging virtualization technologies and Symantec provides deeply integrated, highly protected support for virtualization technologies such as VMware and Hyper-V.
Solution Site: Build a Resilient and Secure Private Cloud
Ensure Control Over Your Critical Information
Computing promises IT the ability to increase efficiency and save money, but raises questions as to how best to safeguard your information and ensure regulatory compliance. Gain the control and visibility against an evolving threat and compliance landscape with Symantec.
White Paper: Cloud Breach: Is Your Business at Risk
Build On-Demand Private Storage Clouds
Cloud computing offers numerous advantages, but can place new demands on your storage infrastructure. Respond to your business needs better, by scaling your data resources dynamically with Symantec.
Video: Save Money with Veritas Operations Manager

Podcast: Storage for the Private Cloud
Build Public Cloud Services
Communications Service Providers, Value Added Resellers and other technology service providers are choosing to build and deliver cloud services for their customers. Symantec solutions are the underpinnings of some of the world's largest public clouds.
Datasheet: Grow Your Service Provider Business with Symantec Solutions
Deliver Clean Pipe and Security Controls Automation
Symantec's Next Generation Network Protection addresses outbound spam challenges with a proactive messaging reputation solution and mapping of dynamic source IP addresses to unique subscriber identifiers in mobile networks and includes inbound and outbound messaging security. Edge of Network solutions combines Symantec's Message Filter and Traffic Shaper with the Message Systems Momentum platform to form the most comprehensive edge solution on the market.
Endpoint Security & Management Service
Symantec solutions help secure cloud endpoints with solutions including Symantec Endpoint Protection, Symantec Protection Suites, and Server Management Suite (Altiris).
Backup, Archive & Harden Cloud Facing Servers
Cloud infrastructure must be hardened and backed up and NetBackup, Backup Exec and Enterprise Vault are market share leading products used by many of the world's largest cloud providers.
Solutions site: Symantec helps Communications Service Providers build and deliver their clouds
Symantec solutions to build protected clouds include products to build secure, compliant and highly available private and public clouds.
Build Secure and Compliant Clouds
Build public or private clouds with the visibility and control you need to ensure your information is protected, secure and compliant in physical and virtual environments, and at rest on in flight.
Data Center Security: Server & Server Advanced
Allows organizations to secure their physical and virtual servers, and to evolve their data center security architectures as they build out software defined data centers.
Control Compliance Suite
Ensure the cloud you build remains compliant with legal and regulatory requirements with a centralized view of IT risks in the cloud, on virtual machines, and on physical machines on premise.
Symantec Data Loss Prevention
Simplifies the detection and protection of your company's intellectual property, wherever it is stored. Helps cloud teams identify at risk workloads to drive risk management on placement of workloads in public versus private clouds. Provides insight to help control and define the scope of audit for cloud-based assets.
Symantec Encryption
Symantec encryption can protect data in public, private and hybrid clouds to ensure information security for the cloud you build.
Symantec Endpoint Protection.cloud
Built for highest protection effectiveness and optimized scan performance to deliver peak availability of cloud-based virtual machine infrastructures.
Symantec Website Security Solutions – SSL Certificates
Solutions that allow companies and consumers to engage in communications and commerce online with confidence. Symantec Website Security Solutions include: SSL Certificates, Website vulnerability scanning, Website malware scanning, the Norton Secured Seal and Code Signing Certificates.
Symantec User Authentication Solutions
Solutions protecting online identities and interactions between consumers, business partners, and employees. Symantec User Authentication Services include two-factor authentication and public key infrastructure (PKI).
Build Resilient Private Clouds
Symantec cloud Resiliency solutions provide recovery of multi-tier applications locally or globally across physical and virtual environments, and failover of mission critical applications and databases in less than a minute. Replicate volumes and files across any distance to meet your recovery point objectives.
Application HA
Ensure application awareness in VMware environments that protects your business critical applications.
Cluster Server
Meet the aggressive SLA requirements of your cloud with high availability and disaster recovery for mission critical business services that run on different physical and virtual platforms.
Cluster File System
Improve performance and automate failover of multi-tier cloud services.
Dynamic Multi-Pathing
Improve storage I/O performance and availability for VMware attached storage.
NetBackup
Ensure you can recover your enterprise cloud with a backup and recovery framework with deep VMware and Microsoft Hyper-V API integration, built-in deduplication, and a connector to public cloud storage providers.
Backup Exec
Backup and recover your cloud with easy to use and tightly integrated support for cloud storage and the new cloud disaster recovery option.
Enterprise Vault.cloud
Integrates content archiving, enabling users to store, manage, and discover unstructured information across the organization.
Server Management Suite
Automatically standardize and provision consistent services across physical and virtual server infrastructures with cross-platform, cross-hypervisor configuration management.
Build Storage-as-a-Service
Faster deployment of applications with on-demand, automated storage templates and multi-vendor storage chargebacks. Reduce storage footprint and cost with dedupe, compression and thin storage.
Storage Foundation
Drive storage efficiency in your cloud. Deliver storage-as-a-service for your data center, and get the most out of thin technologies to provide storage-on-demand.
Veritas Operations Manager
Manage business services delivered across virtual and physical platforms for critical applications running in your cloud. Veritas Operations Manager is a comprehensive management platform that centralizes and automates your operations across your cloud environment.