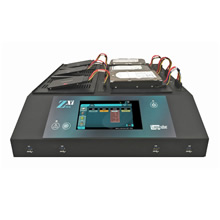 The ZXi-10G is the first hard drive duplicator on the market to include two 10GbE network connections, allowing you to streamline your workflow and clone directly to or from a network repository or a NAS device. The ZXI-10G efficiently performs hard drive duplicating tasks including PC deployments, O/S upgrades, content/application distribution and data back-up tasks.
2 10GbE network ports for fast cloning to/from a network repository or NAS
Clone up to a total of 6 SATA/SAS-ready targets, add 4 targets with an optional expansion kit
Clone up to 8 USB 3.0 targets
Thunderbolt/USB-C port available to clone to/from Thunderbolt storage enclosures
Blazing fast hard drive duplicating at up to 29GB/min*
Clone PCIe (including NVMe type) drives using the optional PCIe Expansion Module
Supports SATA, USB3 in the base unit, optional support for SAS drives is available
Support for IDE, ZIF, mSATA, microSATA, eSATA drives and compact flash media is available with optional adapters
Supports both mirror copy (100% bit for bit) and a "CleverCopy" mode that intelligently copies only data areas of the hard drive
Safely sanitize drives with a wipe feature. Supports DoD 7 pass, Secure Erase and meets NIST 800-88 guidelines
Hard Drive Duplication supports cloning 3.5″/2.5″ SATA hard drives,3.5″/2.5″ SAS (optional), USB enclosures and thumb drives. PCIe drives are supported with an optional PCIe Module. Optional adapters are available for 1.8/2.5/3.5″ IDE and IDE ZIF drives, eSATA, microSATA, mSATA and flash media. 
Network Cloning allows network access (upload/download) to drive images and log files. Utilize the high-speed 10GbE connection to clone to/from a network repository or NAS solution and achieve transfer speeds of up to 30GB/min. Two 10GbE ports allow you to connect to a 10GbE NAS to use as a source and connect to your network using the 2nd 10GbE port to minimize bottlenecks
PCIe Support PCIe M.2 (NVMe, AHCI, SATA types), PCIe and mini-PCIe cards are supported with the optional PCIe Module. Supports cloning up to 7 PCIe targets using optional PCIe adapters.
USB Cloning supports cloning to and from USB enclosures and thumb drives. 7 USB 3.0 and 1 USB 3.1 Gen 2 ports are available
Thunderbolt The ZXi-10G features a Thunderbolt/USB-C port. Users can connect Thunderbolt external storage enclosures to the ZXi-10G and clone to/from these solutions
Multi-target CloningClone from 1 master to 5 SATA or 5 SAS (if SAS option is purchased) target drives, or clone from a ZXi-10G created image stored on an external USB enclosure or on a network repository to a total of 6 SATA/SAS target hard drives
Data Transfer RateThe ZXi-10G duplicates hard drives at speeds up to 29GB/min*
Multiple Master/Source and Target Drives Users can assign any drive stations as a master or target drive
Error Handling A error granularity user-selectable setting provides more control over error handling of the master drive. Four cluster size settings are provided to determine the number of sectors to be skipped when a bad sector is found on the master drive. The ZXi-10G can also abort or skip bad sectors found on the master drive
Clone from an image or a master hard drive supports cloning from a ZXi-10G-created image stored on a USB enclosure connected via one of the ZXi-10G's USB 3.0 ports, from a ZXi-10G-created image stored on a shared network drive location, or clone from a master/source hard drive
Multi-Session Capability Allows users to perform multiple tasks including cloning wiping or hashing concurrently
Write-Protected Source ZXi-10G drive stations or USB ports that are designated as a master by the user are automatically write-blocked to prevent any alteration to sensitive data on the source drive
Remote Operation ZXi-10G allows you to control all operations from a remote computer using a web browser or CLI interface.
Flat-Bed Design The ZXi-10G features a flat-bed design with removable, field-replaceable drive stations. The drive stations provide drive power port protection
*Speed based on 1 to 1 mirror cloning using solid-state drives. Speeds will vary depending on the type of drives and number of targets
4 Drive Expansion Kit The optional expansion kit provides an additional 2 SAS/SATA and 2 SATA only targets for a total of 9 SATA (7 SAS) targets when cloning from a master hard drive or 10 SATA (8 SAS) targets from a ZXi-10G created image stored on a network repository or from a repository stored on an external USB enclosure connected to the ZXi-10G
Wipe Feature The ZXi-10G provides a comprehensive wipe mode. DoD wipe, Secure Erase and custom pass settings. Supports NIST 800-88 guidelines
Hash Verification Option This optional feature allows the user to clone and verify the exact replication of the master drive. Features user-selectable SHA-1, SHA256 or MD5 algorithms
Multiple Cloning Modes Supports Mirror (bit for bit copy) and CleverCopy (copies only data areas, skips blank sectors)
Large Capacity Drives The ZXi-10G provides support for today's large capacity drives (>2TB)
Task Macro Allows users to set specific tasks to be performed sequentially. For example, set task 1 to wipe, task 2 to clone, task 3 to hash
File Systems Supports all O/S and file systems including Linux and MAC in Mirror mode. Supports FAT16/FAT32/NTFS and Linux (ext, ext2, ext3, ext4) in CleverCopy mode
Flat Bed Design & Removable Drive Stations Provides fast, easy connection to a variety of hard drive types. Removable drive stations are field replaceable
Blank Disk Blank disk feature checks if the drive is blank
Drive "Time-Out" A user-selectable feature will set a specific "time-out" for drives connected to ZXi-10G. After a specified idle time the drive will automatically be put into standby mode, powering down the drives
Advanced Administrative Functions Administrators can create/manage image repositories, manage network settings, create user profiles, save configurations, manage drive station assignments
Audit Trail/Log Report Detailed information about the cloning session is provided, and reports can be printed from a browser or via CLI. The report includes a digital signature for authentication purposes.
Mouse/Keyboard The unit features PS2/mouse port for connecting a keyboard and mouse to the ZXi-10G.
HPA/DCO Clone or wipe HPA/DCO areas of the drive
Colour Touch Screen Display A vibrant display provides an intuitive and easy to use interface
Compact Footprint The ZXi-10G takes up minimal real estate on the work bench at a size of 3.7″ X 19″ X 17.2″ (9.39cm X 48.26cm X 43.68cm) and weighs only 14lbs (6.4kg)