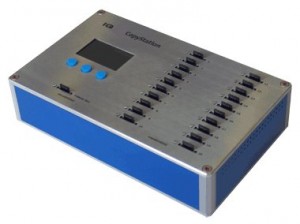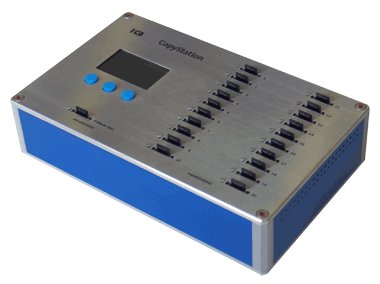 Highlights
The IQ CopyStation is the simplest and most efficient way of duplicating your data onto large numbers of flash media like SD/SDHC/MMC/MMCplus Cards or microSD/SDHC Cards
It is easier than ever to copy your data with the IQ CopyStation. Specially qualified or expensive personnel are not necessary.
Transfer rate up to 2000 MByte/sec.*
Copy on Insertion™ technology
Stand alone basis or host based mode via USB 2.0 at Windows PC
IQ PowerSoftware for Windows 7,  XP and Vista
Log file recording, analysis and export for monitoring production processes
Details
With a cumulative transfer rate from up to 2000 MByte/sec.*, the innovative "Copy on Insertion™" copy mode, the primary stand alone basis and the new enhanced IQ PowerSoftware the IQ CopyStation is a new milestone in altec's CopyStation history.
(*depends on card type and manufacturer)
In addition to the stand alone basis the IQ CopyStation attached to one host PC affords you a multitude of new copying features by the new IQ PowerSoftware and furthermore the features from altec's reliable CopyStation software.
Via built in USB 2.0 interface the IQ PowerSoftware is able to control up to 32 IQ CopyStations. The IQ PowerSoftware has a user account system and extensive log file functions with numerously analysis tools. The export function for Matlab and Excel affords you an easy control of QS and production processes.
Compatible media
The following storage media can be used in the different IQ CopyStation models:
SD/SDHC/MMC/MMCplus Cards
microSD/microSDHC Cards
Other memory media on request.
Copying methods
Copying functionality IQ CopyStation stand-alone basis:
Parallel writing and verifying from a master image flash memory card to 20 memory cards
Copy on Insertion™ mode continously writing and verifying from a master image flash memory card to 20 memory cards
Copying functionality IQ CopyStation with IQ PowerSoftware:
ImageCopy; create image files, writing and verifying from cards with an image file or a master card
ShortImage Copy; optional copying of short images
FileCopy option
Serialization option**
Write protection options**
(** depends on flash media type)
Scope of delivery
This copy system consists of IQ CopyStation with 21 media slots (incl. 1 Masterslot) in a rugged metal body with USB 2.0 interface and an external power supply pack.
Optional available IQ PowerSoftware runs under Windows 7, Vista or XP on a PC with min. 1 GHz CPU min., 256 MB RAM free, needs min. 50 MB free space on hard disk and USB 2.0 interface.
Technical data
Hardware:
Interface:
USB 2.0 Hi-Speed
Slots:
21 (there of 1 Master)
Case:
Rugged and compact metal-
case 227 x 140 x 56 mm (WxDxH)
Performance:
Data transfer rate:
Up to 2000 MBytes/s cumulative –
Maximum speed is limited by
the memory media
Electricity
Power supply:
Separate power supply unit
Environmental specifications:
Humidity:
10% to 90%, non-condensing
Temperatur:
+10° to +35°C (operating)
–40°bis +65°C (non-operating)
Software:
Supplied OS:
Windows 7,  XP Professional and Vista,
with min. 1 GHz CPU