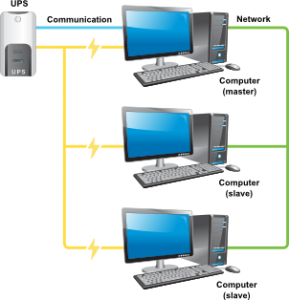 Uninterruptible Data Center Power
AC power uninterruptible power supplies (UPS)
Sustain critical operations that simply can't go down. Emerson Network Power delivers a full range of uninterruptible power supplies (UPS) and power distribution units (PDU), from individual data centre solutions to integrated systems that keep network closets, computer rooms and data centre infrastructure up and running.
Network Uninterruptible Power Supply (UPS)
True on-line uninterruptible power supply (UPS) systems for network servers, bridges, hubs, routers, storage devices, and critical workstations.
High-Performance Power Protection for Server and Networking Equipment with Extended Run Capability
Liebert PSI-XR is a feature-rich UPS system designed especially for today's IT applications such as servers, storage, and networking equipment. Its high power output delivers superior performance on power factor corrected (PFC) power supply and satisfactory backup time in the high demand environment.
Liebert PSI-XR allows you to get more from your UPS and your protected equipment, with features normally found only on more expensive systems:
Liebert PSI-XR operates at a high 0.9 power factor that makes it ideal for today's modern IT equipment, providing more power for your connected load.

Greater than five minutes of internal battery backup time at 100% load measured at pf 0.9 provides ample time for an orderly shutdown of connected equipment.

Remote communications and shutdown options provide remote monitoring and power management — WEB/SNMP, USB, contact closure, and remote power off.

Optional matching external battery cabinets offer more backup time. Liebert PSI-XR is environment-friendly UPS with RoHS R6 compliance.