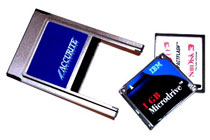 Adapts PCMCIA Devices to Use CompactFlash Type I or II Cards
The PCMCIA/CF Reducer adapts devices with PCMCIA Card Type II slots to operate with your CompactFlash Type I or II card. Files from your Pocket PC or photographs taken from your digital camera and stored on a CF card, can now be easily copied or viewed on your old PC or laptop. This is much faster and easier than establishing a synchronization or USB link.
The PCMCIA/CF Reducer is compatible with virtually all CompactFlash cards including modems, micro drives, memory cards, wireless lan cards, etc.
After the CompactFlash Card is inserted, the PCMCIA/CF Reducer is then plugged into the host device's PCMCIA slot. All of the PCMCIA/CF Reducer, with the installed CF card, plugs into the device's PCMCIA slot with no portion protruding. When the CompactFlash card is removed from its socket, a spring-loaded shield is deployed to protect the PCMCIA/CF Reducer's pins.