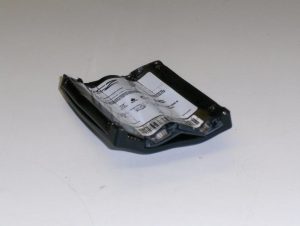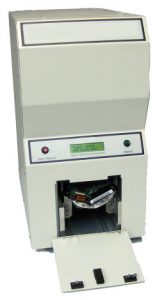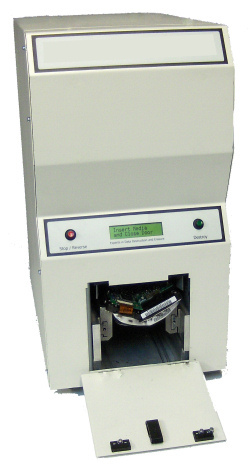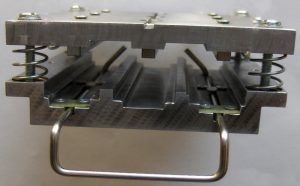 Unlike our degaussers, which erase data through powerful magnetic fields, this machine destroys the drives and memory chips rendering them unusable. For companies requiring the utmost security, it provides a perfect accompaniment to a degausser. It is also an ideal solution for companies who recycle used media storage devices.
The unique Log System records all operating and destruction information which can be saved and printed, giving hard copy evidence of complete destruction.
Neat and compact it can destroy media in just 9 seconds making it time efficient and office friendly. It is simple to operate and has inbuilt safety features. A handy LCD display shows progress of the destruction.
Simple Operation
In just three easy steps the destruction process is complete.
The operator opens the door and inserts the drive.

Closing the door energizes the unit and pressing the button starts the destruction process. Progress is shown on the LCD.

When the display shows the process is complete the door is opened and the destroyed drive can be removed.
At all times through the cycle the safety interlocks ensures operators cannot put fingers, clothing, etc in the crushing area whilst the moving parts are energized.
Specifications:
Electrical:

Power supply

115v 60Hz or 220v –240v 50Hz

Power consumption

4A 115v 60Hz or 2A 220v—240v 50Hz

Mechanical:

Crush time

9 seconds

Media capacity

One Hard Drive

Hardware:

Media destroyed

SATA, PATA, SCSI, Fibre, Channel, Notebook/Laptop Hard Drives (3½" and 2½" All formats and types up to 1.66″ height) SSD's 2½" format

Physical Specifications:

Size (WxHxD):

9.5″ x 18.9″ x 15.4″ (24 x 48 x 39cm)

Weight

72lbs (32.65 kg)

Logging Software:

Operating systems

Windows OS with optional software
View a video showing how the destroyer works by clicking this link here.