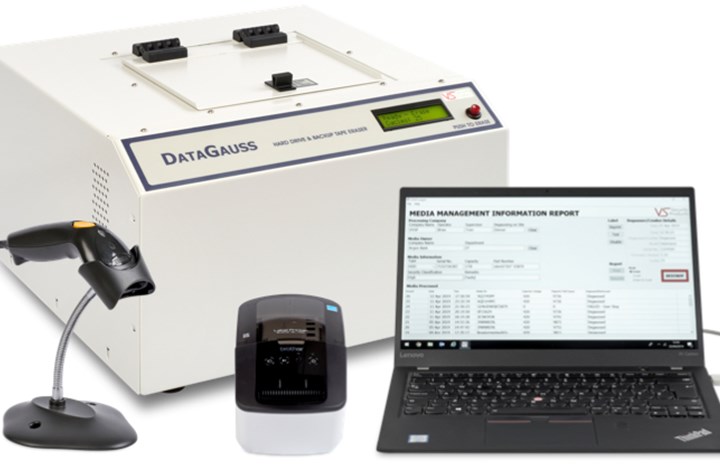 Easy Operation
The DataGauss LG MAX has been designed with simplicity in mind. Releasing the catch lifts the lid, allowing media to be placed into the chamber. Closing the lid and pressing the 'erase' button on the control panel activates the charging of the powerful degaussing magnetic field. When the display says the degauss cycle is complete, the lid can be opened and the media removed. The entire process takes just 15 seconds.
Throughout the whole erase cycle the on-board processor monitors the erase procedure ensuring that it is completed correctly. The operator is shown erase progress and immediately alerted to any interruptions in the cycle by messages on the LCD control panel.
Compliance
The DataGauss LG MAX is designed to help you comply with the following Government Mandates that require destruction of sensitive information stored on Hard Drives and Backup Tapes before their disposal.
PCI DSS (Payment Card Industry) Data Security Standard

GDPR (General Data Protection Regulation)

PIPEDA (Personal Information Protection and Electronic Documents Act)

NIST (National Institute of Standards and Technology) Guidelines for Media Sanitization NIST SP 800-88

NIST (National Institute of Standards and Technology) Guidelines for Media Sanitization NIST SP 800-36

Gramm-Leach-Bliley Act (GLBA)

HIPAA (Health Information Portability and Accountability Act)

California SB-1386

IRS-1075

CJIS

Bank Secrecy Act (BSA)
Degauss Method:

Pulse discharge, chamber degausser

Media Handling:

Standard PC, Laptop and Server 3.5″, 2.5″ & 1.8″ Hard Drives. Longitudinal & perpendicular recording. All Drive interfaces IDE, SATA and Fibre Channel.





All Backup tapes including DLT,2,3,4,5,6 & SDLT, LTO1,2,3,4,5,6,7 & 8; 3480/3490/3490e, 3590, 9840 & T9940 & T10000 tape; Ultrium & Redwood SD-3 tape & cartridges; Mammoth 1 & 2, 8mm, AIT1 & 2,M2 tape; DDS 1, 2, 3, 4 & 5, DD-2 & DFT-1

Charge Time

7 Seconds

Media Chamber Capacity:

5.9″ x 1.2″ x 4.3″ (150mm x 30mm x 110mm)

Cycle Time/Erase Time:

15 seconds typical

Throughput:

240 hard drives/cartridges per hour typical

Duty Cycle:

Continous

100-120 VAC, 208-240 VAC, 50/60Hz




Current Rating:

100-120V 4 Amps,208-240V 2.5 Amps Typical

Controls:

On/Off Power switch, Erase button

Temperature:

41°F – 104°F (5°C – 40°C)

Humidity:

10%H – 40%H Without Condensation

Certifications:

CE

Data Destruction Auditor Connectivity:

Bi Universal Serial Bus. 2.0 Full Speed (USB)

Data Destruction Auditor Operating System:

Win 10, 8, 7 and Vista 32-bit & 64-bit
Win XP (SP3 or higher) 32-bit only
Specifications are subject to change without notice
Note: After degaussing, hard drives should not be reused as they are stressed in the erasure process. Some backup tapes may not be reusable after degaussing due to the servo track being erased.