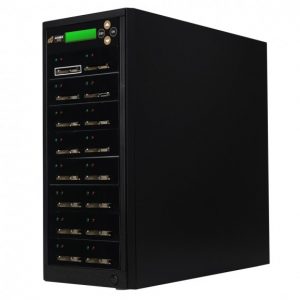 The Standalone Flash memory card duplicator conveniently copies Compact Flash cards without a computer. Advanced asynchronous duplication means no waiting and no interruption as each channel can independently load, unload, and copy. The new Standalone Flash memory card duplicator also features user friendly 4-key control with LCD, high speed duplication and bit-by-bit Compare function to confirm successful copies. Reliable, affordable, and convenient, the new Standalone Flash memory card duplicator is the best companion for any industry.
Standalone turnkey system; no computer required.

No warm-up and cool-down

User friendly interface and simple operation

Real-time display of detailed information on bright LCD screen

Support all file formats, file size, and card/drive capacity.

Support Synchronous and Asynchronous copy modes

High speed copy up to 2GB / min!

Real time copy and compare technology to ensure successful and complete copies.
Standalone 7, 15, 23 and 31-Target Flash Duplicator Specifications
| | |
| --- | --- |
| Operating Type: | Stand-alone (No PC Required) |
| Number of Targets: | 7, 15, 23, 31 |
| Supported Media: | Compact Flash (CF Model) |
| Supported Memory Cards: | Compact Flash Type 1, 2, Microdrives |
| Transfer Speed: | Up to 2GB/min |
| System Memory: | 256 MB |
| Copy Mode: | Synchronous or Asynchronous |
| LCD Display: | 2 x 16 Backlit |
| Power Requirements: | 115V or 230V |
| Operating Temperature: | 41°F ~ 122°F |
| Operating Humidity: | 15% ~ 90% |
| Regulations: | FCC, CE |