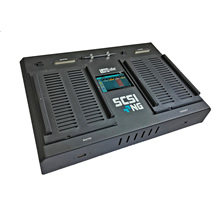 The SCSI-NG is a compact, portable SCSI hard drive duplicator. Efficient cloning makes it easy to copy SCSI hard drives for back-up, drive testing and all your duplication tasks. The unit features a Gigabit Ethernet network port to conveniently use the browser-based interface to manage all SCSI-NG operations.

Comprehensive log reports provide detailed information about each task performed. An optional Wipe feature can securely erase hard drives using a SCSI format command, a custom pass, or a 7 pass DoD specification wipe. 
---
Clone from 1 SCSI master to 1 target drive at speeds of up to 8GB/min
Supports 100% mirror copy or use Logicube's CleverCopy mode to copy only data areas for efficient cloning
A browser-based user interface to manage all SCSI-NG operations remotely
The multi-image master feature allows you to store multiple SCSI-NG created images on a master drive or on a network repository then clone the image to the target
---
Features:
Hard drive duplication of 68-pin SCSI hard drives. Optional adapters are available to convert 50-pin or 80-pin drives
Single Target Cloning Clone from 1 master drive to 1 target drive
Operating Systems Supports cloning all operating systems including Windows 10, Linux and Unix
Write-Protected Master The SCSI-NG master port is automatically write-blocked to prevent any alteration to sensitive data on the master drive
Wipe Option The SCSI-NG provides a comprehensive wipe mode. DoD wipe, Secure Erase (using a SCSI FORMAT command) and custom pass settings. Meets NIST 800-88 guidelines. Requires the purchase of a software option.
Multi-Image Master Feature Store multiple images created using SCSI-NG in a repository on a SCSI drive or on a network repository and then clone to the target drive.
Remote Operation SCSI-NG allows you to control all operations from a remote computer using a web browser. The SCSI-NG has a Gigabit Ethernet port.
Error Handling Scan for bad sectors on the source drive, abort or skip and log for review. An error granularity user-selectable setting provides more control over error handling of the master drive. Four cluster size settings are provided to determine the number of sectors to be skipped when a bad sector is found on the master drive.

*Speed based on using Mirror mode. The specification and condition of hard drives and settings used may affect the achieved speed
Multiple Cloning Modes Supports Mirror (bit for bit copy) and CleverCopy (copies only data areas, skips blank sectors). For multiple partition drives, SCSI-NG automatically selects the optimum cloning method (Mirror or CleverCopy)
Hash verification Option Clone and verify the exact replication of the master drive in one single process. Features SHA-1, SHA256 or MD5 algorithms and hash verification is embedded in the audit trail/log file. Requires the purchase of an optional software activation package
Advanced Administrative Functions Administrators can create user-profiles and save configurations
Compact Footprint The SCSI-NG features a compact size at 14.5″ X 9.5″ X 3.5″ (36.8cm X 10.6cm X 8.8cm) and weighs only 5.2lbs(2.3kg), making it perfect for use on the workbench or in the field
Audit Trail/Log Report Detailed information about the cloning session is provided, and reports can be printed from a browser. Report includes a digital signature for authentication purposes
Drive Statistics Provides advanced S.M.A.R.T. drive information
HPA/DCO/ACS3 Clone or wipe HPA/DCO/ACS3 areas of the drive
Color Touch Screen Display A vibrant display provides an intuitive and easy to use interface and includes a built-in stylus
Specs:
Power Requirements: 90 watts
Power Supply Voltage (DC In): +12VDC@2.5A
Output Voltage (DC Out): +5VDC @ 2.5A, +12VDC@2.5A
Operating Temperature:32-104F (0 to +40C)
Relative Humidity: 20-80%
Net Weight: 5.2lbs (2.3kg)
Dimensions: 14.5″ W X 9.5″ D X 3.5″ H (36.8cm X 24.1cm X 8.8cm)
Agency Approvals: RoHS Compliant, FCC Part 15 Class A, CE