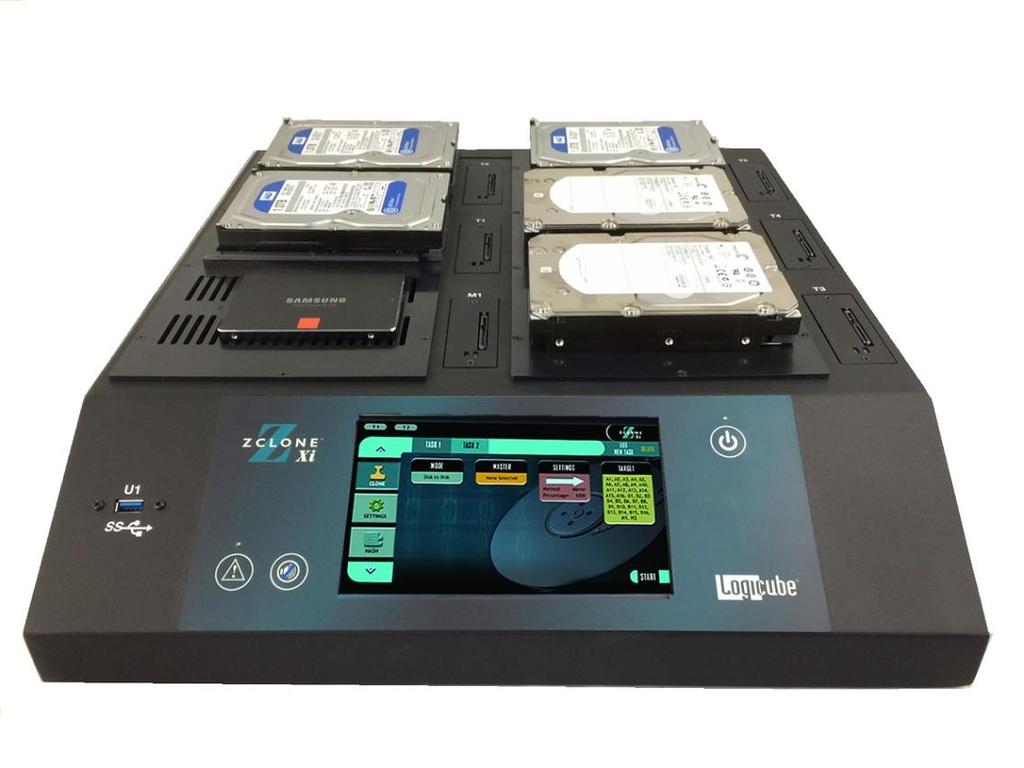 We are pleased to announce the launch of a new product to our family of hard drive duplicators. The ZCloneXi ( also known as ZXi) is a five target solution expandable to nine targets. It combines all of the advanced enterprise features of the popular ZClone with a flat-bed design and removable drive stations that our customers have asked for!
The ZXi provides extremely fast cloning speeds of up to 24GB/min, supports SATA and optional support for SAS. The ZXi also supports USB 3.0 (three ports are available). A variety of other drive interfaces are supported with optional adapters. An optional Verification/Hash feature verifies the exact duplication of the source drive. The unit can safely and securely sanitize drives using Secure Erase, a custom pass setting or a powerful 7-Pass DoD wipe mode.
Network sharing allows you to clone to a network repository. Two Gigabit Ethernet ports are available on the ZXi.
Features
High-speed cloning.

The ZCloneXi will clone at blazing speeds of 24GB/min

*The ZXi has built-in support for 3.5"/2.5" SATA hard drives. The SAS-ready drive  stations support SAS hard drives with the purchase of an optional software activation package

1.8"/2.5"/3.5" IDE and IDE ZIF drives, eSATA, microSATA, mSATA and compact flash media are supported with optional adapters

Supports cloning to and from USB enclosures and USB thumb drives. 3 USB 3.0 ports are available

Multi-target, volume cloning: Clone from 1 Master to 5 SATA target drives or 5 SAS (if SAS option is purchased) target drives, or clone from a ZXi-created image repository stored on an external USB enclosure or on a network repository to a total of 6 SATA/SAS target hard drives

Optional 4 drive expansion kit provides an additional 2 SAS/SATA and 2 SATA targets for  a total of 9 SATA (7 SAS) targets when cloning from a master hard drive or 10 SATA (8 SAS) targets from a network repository or from a repository stored on an external USB enclosure connected to the ZXi

Supports multiple master/source and target drives. User can assign any drive connected to ZXi as a master/source or target drive

Network sharing.

Allows network access (upload/download) to drive images and log files. Two gigabit Ethernet ports are available.

Multi-session capability.

Allows user to perform multiple tasks, including cloning, wiping or hashing concurrently