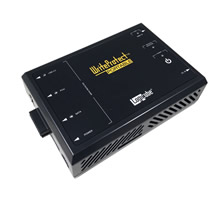 The WriteProtect-PORTABLE provides digital forensic professionals with fast, secure, read-only write-blocking of PCIe M.2, SATA and USB3.0 suspect hard drives. Small in size but feature-packed, it is the ideal write-block solution for field acquisitions.
Supports fast secure write-blocked access to PCIe M.2 NVMe, AHCI PCIe and mini-PCIe express cards
Supports secure, write-blocked access to SATA, USB3.0, source drives
Fast Superspeed USB3.0 host connection
Browser-based user interface for HPA/DCO management and software updates
Ultra-Fast USB3.0
The WriteProtect-DESKTOP features a USB3.0 host connection for extremely fast operation

Write-Blocking
The WriteProtect provides read-only, write-blocked support for PCIe/SATA/USB3.0/2.0/1.1

PCIe Support
Support is available for M.2 PCIe (SATA, AHCI and NVMe types), PCIe and mini-PCIe express cards using the WriteProtect's PCIe port and an optional adapter kit

Multiple Ports
Write-protected source ports include:
1 SATA
1 USB 3.0
1 PCIe
A Gigabit Ethernet port for network connectivity is built-in.
Hard Drive Support
Optional adapters are available to support 1.8″ IDE, IDE ZIF, mSATA, microSATA, eSATA and flash media
PCIe Adapter Kit
An adapter kit is available to support PCIe M.2 NVMe, AHCI, SATA type SSDs, PCIe and mini-PCIe express cards
Browser-based User Interface
Use the browser-based user interface to manage all WriteProtect operations including software updates, connect to your network using the WriteProtect's Gigabit Ethernet Port
6 LEDs
Easily monitor functions with 6 LEDs for power, host, device, activity and HPA/DCO detection
HPA/DCO
HPA/DCO detection and capture is easily managed via the WriteProtect's browser-based user interface
Portable
The WriteProtect-Portable weighs less than 1 pound and its compact size at 6.2″ X 5.2″ X 2.1″ makes it easy to transport
Compatibility
The WriteProtect is compatible with forensic acquisition and analysis software