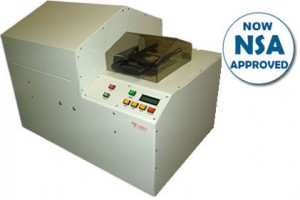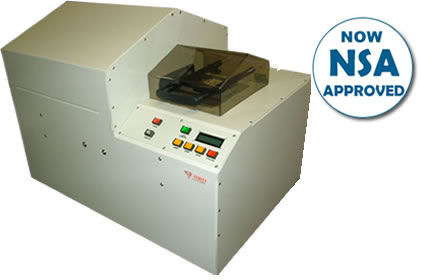 It is a high energy, hard drive eraser designed to offer complete and secure erasure of magnetic media, to the highest level, including perpendicular recording hard drives. It is also capable of erasing data storage media including DLT, LTO, 8mm, DDS and more.
Performance
It generates the strongest erasure field of any degausser on the market. Where security is of the utmost importance, users can quickly sanitize their media without the need for disassembly.
Operation
It is a bench mounted, chamber degausser, making operation safe, effective and simple for anyone. Operators simply lift the perspex lid, insert the media into the caddie, close the lid and press the 'Start' button via the control panel or the remote control. Media is transported into the degausser where the magnetic field is activated by a powerful pulse discharge. While inside the degausser, media is automatically rotated and a further two magnetic discharges are applied, ensuring complete erasure. The entire process takes just 60 seconds. The processor controlled it continuously monitors the operation ensuring that the erasure cycle is completed. The operator is immediately alerted to any interruptions in the erasure cycle on the LCD control panel.
Key Features:
Maximum security, hard drive degausser

Complete erasure of hard drives

Effective on Longitudinal & Perpendicular hard drives

Simple, one-pass automatic operation

Processor controllers deliver failsafe erasure

Continuous duty

Remote control operation
Specifications:
Media Handling:

2.5″ & 3.5″ hard drives

[up to a physical max. of 4″x 1″x5.8″ (W x H x D)]. Longitudinal & Perpendicular

DLT

S-DLT

LTO1, 2, 3 & 4

3480/3490/34901e

3590, 9840 & T9940 tape

Ultrium & Redwood SD-3 tape & cartridges

Mammoth 1 & 2

8mm, AIT1 & 2

M2 tape

DDS 1, 2, 3, 4 & 5

DD-2 & DFT-1 & 2

Power Supply: 230 volts 50Hz or 115v 60Hz

Current Rating:

50Hz 10 Amps

60Hz 16 amps

Cycle Time: 60 seconds typ.

Duty Cycle: Continuous

Display & Indicators:

Liquid Crystal Display (LCD)

Power, Normal & Fault indicators

Dimensions (W x H x D):

620 x 672 x 884mm (24.4″x26.5″x34.8″)

Boxed: 920x920x1180mm (36.2″x36.2″x46.5″)

Weight: 328.5lbs (149kgs)

Temperature: 5oC (41oF) to 40oC (104oF)

Humidity: 10% to 80% non-condensing

Throughput: 40 hard drives/cartridges per hour (typical)

Controls:

Power switch

Start-Stop-Reset push button

Remote Control
Click here to download our catalog for DoD Certified Degausser