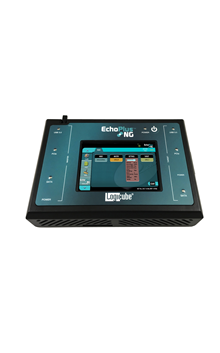 EchoPlus-NG Hard Drive Duplicator –
This fast, portable and budget-friendly 1 to 1 hard drive duplicator supports cloning PCIe M.2, USB 3.0 and SATA hard drives.
The EchoPlus-NG delivers blazing fast hard drive cloning at 18GB/min*. This handheld cloning solution provides advanced features not seen in your typical entry-level duplicator. It supports PCIe M.2, SATA and USB 3.0 drives, includes an easy-to-use browser-based interface, comprehensive log reports and a wipe feature that supports a DoD 7-pass wipe. This hard drive duplicator makes it easy to accomplish all your cloning and wiping tasks including drive testing, software and O/S upgrades, back-ups, content/application distribution and new PC rollouts.
---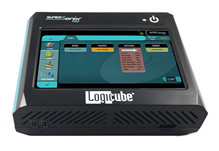 The SuperSonix® NG PCIe hard drive duplicator is the only portable/hand-held hard drive cloner on the market that supports PCIe M.2 SSDs including AHCI & NVMe types!
The SuperSonix-NG-P delivers blazing fast hard drive cloning at 24GB/min* and efficiently performs hard drive duplicating tasks including PC deployments, O/S upgrades, content/application distribution and data back-up tasks. Its compact size makes it ideal for workbench or mobile on-site applications.
---
ZClone xi 1 to 5 drives SATA HDD Duplicator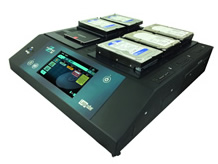 The ZCloneXi ( also known as ZXi) is a five target solution expandable to nine targets. It combines all of the advanced enterprise features of the popular ZClone with a flatbed design and removable drive stations that our customers have asked for!
---
ZXI-10G 10GbE Hard Drive Duplicator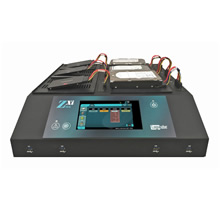 The ZXi-10G is the first hard drive duplicator on the market to include two 10GbE network connections, allowing you to streamline your workflow and clone directly to or from a network repository or a NAS device. The ZXI-10G efficiently performs hard drive duplicating tasks including PC deployments, O/S upgrades, content/application distribution and data back-up tasks.
---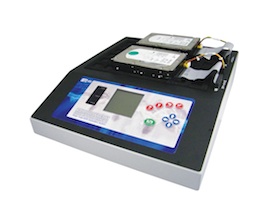 The OmniSCSI One-to-One features high-speed, one-to-one, duplication and is capable of duplicating a SCSI master drive to one SCSI target at speeds approaching 6GB/min. This revolutionary system is housed in a slim-line chassis and is completely self-contained with its own graphic LCD display and control panel. No monitor or keyboard is required.
---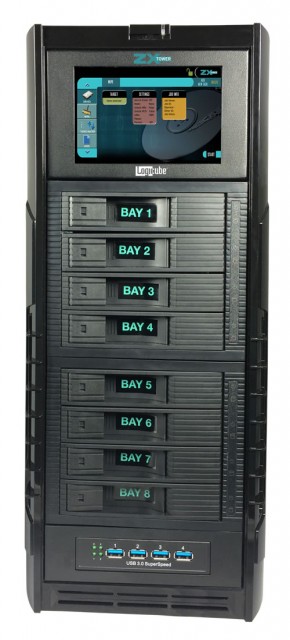 With high-speed wiping and multi-target wiping, the ZX Tower will sanitize hard drives at an astonishing speed exceeding 24GB/min.
---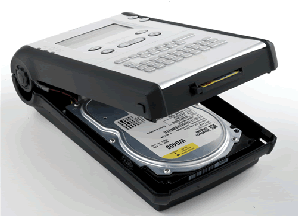 The Sonix transfers data to and from a hard drive at 3.3GB/min. With built-in USB, SATA, and IDE connectivity, and with optional adapters for 2.5″, 1.8″ and compact flash duplication, the Sonix is ready for immediate access to any drive. Capable of housing any size, brand, model, or type drive. It allows the user to configure up to 24 partitions for various loads and applications. The Sonix is a must for every MIS/IT department.
---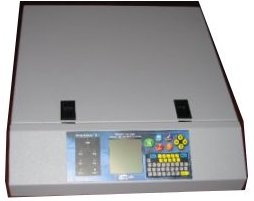 The standalone, compact OmniClone® systems utilize the latest technologies to allow UDMA data transfer speeds in excess of 2.3 GB/min. Copy a gigabyte load of XP or any Windows OS to any gigabyte size hard drive in less than a minute. You may use any combination of IDE, EIDE, or UDMA master and target drive brands, sizes and models. With their comprehensive features, innovative design, and functionality, the OmniClone® systems are the ideal production-grade duplication solutions.
---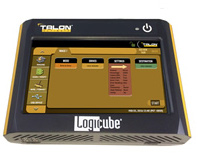 For the full list of advance, high-performance forensic duplicators at unbeatable imaging speeds of over 40GB/min*, please view at our forensic hardware web pages.
---